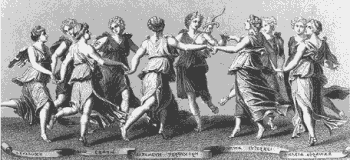 nine muses: Calliope, Clio, Erato, Euterpe, Melpomene, Polyhymnia, Terpsichore, Thalia, and Urania,
three: Melete, Mneme, and Aoede (the Elder Muses )
Cleo protects the stories of heroes, Urania astronomy, Calliope elegies, Melpomene the tragedies, Euterpe flute playing, Erato love poems, Tepsicore choir lyrics, Thalia the comedies and Polyhymnia dance and music.

I call on Thee, kind Muse, to grant a gift,
to loose a stream of swiftly flowing words,
a spring of inspiration, crystal clear,
to nourish fruit from which to feed the soul,
a rushing stream to cleanse my inner eyes
so I may see the ageless mythic truth.
I ask assistance by these very words.
As I have prayed, so may it be!